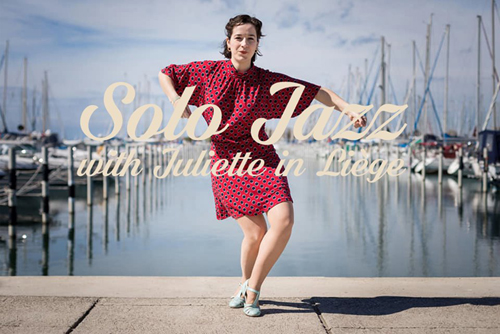 Jeudi 19 septembre 2019 de 20:00 à 21:00
You want to spice up your couple dance and be able to make fancy variations? You know the Shim Sham and you want to learn more?
For lindy hop dancers having beginner or intermediate level. Level also suitable for beginners and for people who have some basics
but do not know a lot about solo jazz moves.
TEACHER
Juliette Venou
From very early on Juliette has been in contact with the performing arts.
At age 4, she started to learn circus at Bing Bang Circus, before specializing in arial apparatus and later on, she joined the Conservatory of Rennes in the music department.
At age 14 the circus classes had to give way for dance classes, specifically Tap Dance, Ballet and Modern Jazz. Through tap dance Juliette discovered, and immediately fell in love with lindy hop during a festival in Oslo. Ever since then she spends her disposable time and energy either on the dance floor, training or going to festivals and competitions or as an organizer of dance events. Her background in Tap Dance and her inspiration by the Old Timers make her style really old school and rhythmical.
SCHEDULE
Every Thursday from 8PM till 9PM
from 19/09 till 23/01/2020 (no class on 31/10, 26/12, 2/01/2020)
PRICE
155€ pp for 16 classes (145€ pp for students less than 26 years old)
INFO & REGISTRATION
dream@apolloswing.be
http://www.apolloswing.be/dream/en/courses/liege/
http://www.apolloswing.be/en/subscription-en/
à La Mi-Lune
31, Rue des Maraîchers
4020 Liège